How to Spend Less on Last Mile Delivery with Local Pickup
For merchants with both online and brick-and-mortar stores, offering delivery methods like buy online, pickup in-store (BOPIS) and curbside pickup help create a cohesive online–to–in-store shopping experience.
For consumers, in-store pickup is attractive because it helps them get orders faster while avoiding shipping fees. For merchants, leveraging their physical stores as fulfillment centers for online orders helps speed up fulfillment times and increase customer satisfaction while lowering shipping costs on local deliveries.
But merchants who have yet to start offering flexible delivery options like BOPIS cite logistics and poor integrations between their ecommerce platform and POS system as their biggest challenges.
How do you ensure online shoppers can only select in-store pickup as a delivery method for products you have on hand? How do you fulfill online orders from your POS system? That's where local pickup comes in handy.
 Local pickup is the easiest way for merchants to start offering in-store pickup as a delivery option at checkout, while ensuring they have inventory on hand to fulfill the order and that retail teams can easily prepare and notify customers when their order is ready for pickup. 
What is local pickup?
Local pickup is a delivery method that lets local shoppers pick up their online orders at your retail store. Local pickup makes it easy for merchants to offer fulfillment options like click-and-collect, BOPIS, and curbside pickup, and manage those orders across multiple store locations from one system.
For store owners, local pickup gives them total control over in-store pickup availability and workflows. They can specify which stores offer in-store pickup, set pickup times, and draft pickup instructions that are automatically sent to shoppers after they place their online order.
For retail staff, local pickup lets them easily view and prepare orders in the POS system, send notifications to customers once their order is ready for pickup, and mark orders as fulfilled after the customer picks up their purchase. Rather than having visibility on all online orders, retail staff can only view online orders where local pickup was selected as the delivery method and the store they work at was selected as the pickup location.
All that makes for a streamlined ordering process that unifies your online and physical stores without adding layers of operational complexity.
What is local pickup availability?
While local pickup is what enables merchants to offer click-and-collect and curbside pickup, local pickup availability is what shoppers see on the merchant's website.
On your product page, local pickup availability shows online shoppers whether a product is available for pickup at one of your stores. Rather than pay for shipping, they can choose to pick up their online order from whichever store location is most convenient.
📌 GET STARTED: With Shopify, you can show in-store pickup availability to online shoppers in a few clicks. To start setting stores as pickup locations, head over to your Shopify admin.
What are the benefits of local pickup?
Local pickup helps increase sales and revenue while delivering on consumers' expectation for fast, free, convenient shipping.
Let's dive into the benefits local pickup offers both you and your customers:
How local pickup benefits merchants
Local pickup saves merchants on shipping costs, increases their online store's conversion, lifts average order value, and even opens up opportunities to lift in-store sales as well.
Save on shipping costs
On average, last-mile delivery represents 53% of a merchant's total cost to ship an item. Turning your physical stores into in-store pickup centers can save you costs to fulfill local orders while matching customers' expectations for same- or next-day delivery.
Increase online conversion rates
Delivery times are an increasingly important factor shoppers consider before buying something online. In fact, a UPS report says 46% of online shoppers abandon their cart because shipping times are too long.
But in-store pickup orders being fulfilled faster than ship-to-customer delivery can help remove barriers to purchase and increase your online store's conversion rate.
Not only are online shoppers who choose local pickup 13% more likely to convert into a sale, they also spend 23% more than customers who opt for traditional shipping.
More upsell opportunities
When online shoppers visit your store to pick up their order, that's an additional interaction with your brand that wouldn't happen if they opted for ship-to-home delivery. Store associates have the opportunity to build rapport with the customer in-person, solve shoppers' needs, and close additional sales. 
Spend less on return shipping
The National Retail Federation reports that almost 11% of all retail dollars spent in 2020 resulted in a return—that's nearly $428 billion spent on paying for return shipping.
Half of US adults say that having to pay for return shipping would prevent them from making a purchase online. While absorbing the cost of return shipping is a great way to increase online sales, encouraging local customers to drop off returned items at your store is an effective way to lower how much you spend on return shipping for local orders.
How local pickup benefits customers
Nearly 60% of consumers plan to continue using in-store pickup as a delivery option following its initial surge in popularity in 2020. This high adoption rate is due to the convenience of receiving orders faster without having to pay a premium.
Save on shipping rates
Deloitte's Global State of the Consumer Tracker had shoppers rank the reasons why they enjoyed in-store pickup. From April 2020 to March 2021, the study tracked any ranking changes.
While being "cheaper than delivery" was initially ranked fourth, it climbed to first in less than a year. The main reason shoppers love local pickup today is because it helps them save on delivery costs.
Get orders faster
Of all the factors ranked in Deloitte's report, the one that saw the biggest jump was "faster than standard delivery." While shoppers ranked it last initially, it climbed to second in less than 12 months.
Today's consumer expects to get their orders quick and cheap, and local pickup helps merchants make that happen by using their existing network of retail stores.
How local pickup works
Let's go over how local pickup works in four simple steps.
📌 GET STARTED: If you use Shopify to sell online and in-person, local pickup is an option you can enable from the Shopify admin. Once enabled, online shoppers can select store pickup as a delivery option at checkout.
Customer chooses local pickup as the delivery method
Once an online shopper finds a product they like, they can choose local pickup as their delivery option at checkout. For the customer to be able to select a location, the location must have inventory of the product they're purchasing on hand.
💡 PRO TIP: If you enable local pickup for more than one store, customers will be able to choose to pick up their order from the location most convenient to them.
Merchant prepares the order and sends a pickup notification
After the customer places their order, retail staff receive a push notification in their POS system alerting them that they've received a new local pickup order that needs to be prepared.
Once all items included in the order are set aside for the customer, the store associate sends the customer a pickup notification to let them know their order is ready. The notification email can also include useful details like the store's address and at what time they can come pick up their order.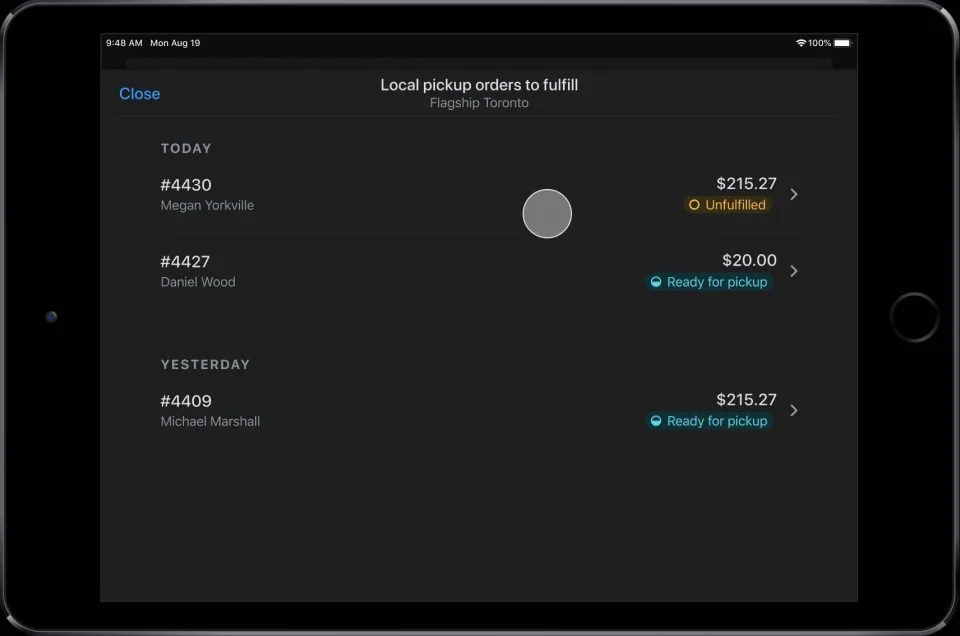 0:14
Customer picks up their order
Since the order was already paid for online, all shoppers need to do when they arrive in-store is show their order confirmation email to a store associate, who then verifies the order in the POS system.
Merchant sends pickup confirmation
Once the shopper picks up their order, the store associate just has to mark the order as picked up and send the customer a pickup confirmation, either via email or text message.
0:22
After the pickup confirmation is sent, the local pickup order is marked as fulfilled in the POS system.
Tips for offering local pickup
Now that you understand how local pickup works, let's go over a few tips to make it a great experience for both your customers and your retail staff.
Show pickup availability to online shoppers
With pickup availability, Shopify merchants can show shoppers when a product is available for pickup at a nearby store location, right from the product page.
This signals to customers that they can save on shipping costs (local pickup is free) while getting their order faster. Knowing both shipping cost and speed are the two most important variables shoppers consider before making a purchase, enabling local pickup availability can help lift your online store's conversion rate.
📌 GET STARTED: To show pickup availability on your product pages, follow these steps.
Include expected pickup times
One of the key benefits of BOPIS is getting your order faster. When you're setting up local pickup for your Shopify store, don't forget to include expected pickup times ("Usually ready in 24 hours," for example) so that customers know the approximate time frame their order will be ready.
Ensure your store location names are easy to understand
Before launching local pickup, update your store location names so customers can easily understand where to go to pick up their order.
We recommend including the following in each of your store names:
City
State or province
Street address
ZIP or postal code
Neighborhood
Enable in-store pickup order notifications
To ensure store associates get click-and-collect orders ready for pickup quickly, enable push notifications in your POS system. With notifications enabled, store associates receive alerts for every new local pickup order where their store is selected as the pickup location. This helps them get orders ready and in the hands of customers faster.
📌 GET STARTED: To enable local pickup order notifications in Shopify POS, follow these steps.
Add a local pickup tile to your POS smart grid
To speed up service once those shoppers show up at your store to pick up their order, consider using the Shopify POS smart grid.
Rather than manually searching for orders, adding a local pickup tile to your smart grid helps store associates find, prepare, and complete online orders marked for in-store pickup from the POS home screen.
0:16
0:13
Customize your pickup notifications emails
Pickup notifications are an important part of a customer's click-and-collect experience. They want to know exactly what's happening with their order, what to expect, and what they need to do next.
Customizing the pickup notifications customers receive is the best place to share instructions for when and where they should pick up their order, safety guidelines they need to follow at your store, and even promote other products they may enjoy.
Article source: https://www.shopify.com/retail/local-pickup